Ai Jp
/ /
287
/
23/04/2022
/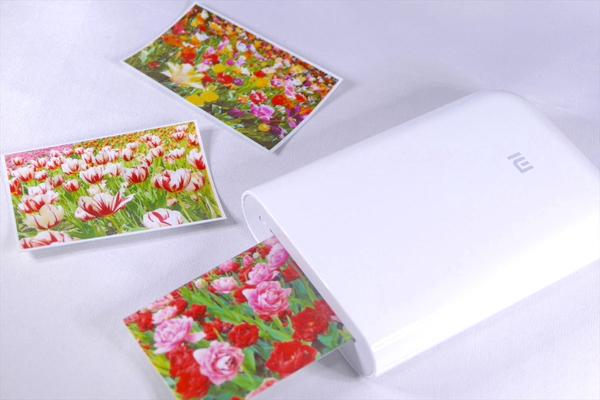 Mi portable photo printer.You can print photos directly from your smartphone
I tried the "Mi Portable Photo Printer" released by Xiaomi on June 4th. In addition to being able to simply print photos from a smartphone, the aircraft also has a function to play videos using the printed photos as AR markers by passing through a dedicated app.
In this article, I would like to tell you about the usability of this product, including these functions. For this verification, we used an iPhone with iOS 14.6.
Photo printer for smartphones that can be carried with one hand
The Mi Portable Photo Printer is a peripheral device that can print data on your smartphone using special printing paper. As the name suggests, it has a size that can be carried with one hand and has a built-in battery, so you can print anywhere as long as you have set the paper.
The price is 7,480 yen. Even if you purchase only the main unit, 5 sheets of paper are included, but if you want to continue using it, you will need to purchase additional 20 sheets of paper for 1,200 yen separately.
Initial setting is smooth when SMS authentication is selected
The Mi portable photo printer connects from the Xiaomi smart home app. This time, I installed and used the iOS version of the "Mi Home --Xiaomi Smart Home" app from the App Store, which was linked from the QR code in the included manual.
When you start the app, you will be asked to log in with a dedicated account. In my case, I had reviewed smart bands, etc., so I created a separate account with the company's "Mi Fit" app, but this was played.
So, I tried to create a new account using my email address, but when I accessed the URL that I received for approval, a Chinese sentence was displayed. Apparently it was a negative sentence, so when I translated it into Japanese using a translation tool, it said that it was an "illegal service." I tried Google Workspace's original domain, Gmail, and Yahoo mail that I use for work in order, but all of them are NG. I guess these services are being played, probably because they pass through a server in China.
I thought it would be a problem if I couldn't verify it, but for the time being, I was prepared to log in with my phone number and SMS approval, so I tried this and I was able to sign in safely.
After logging in, it was relatively smooth. Select the "Entertainment" category from the "+" button in the app, and then select "Mi Portable Photo Printer". Press the power of the printer for 2 seconds to turn it on, and follow the on-screen instructions to perform pairing operation (the printer supports Bluetooth 5.0).
In addition, since the printer has a function to associate data such as video and audio with the printed photo, a lot of pop-ups asking for permission of authority are displayed. When using the printer, if you allow access to photos and microphones other than location information, subsequent operations will be smooth.
Set the paper.Don't forget the orange paper
Since it is necessary to load the paper in the photo printer before operating the application, slide the side where the logo mark is printed. This will reveal a pocket for loading paper.
Open the paper wrapping, and when a bundle of paper appears from the inside, set it in the printer without breaking the order. This bundle comes with orange paper with a barcode that is not printing paper, but let's set it without removing it as well. Insert the barcode so that it faces down, slide the lid to close it, and the preparation on the main unit side is complete.
What is a "video photo"? I tried the AR function
As a recommendation in the app, "Video photo" was displayed first, so I tried this. As a procedure, select the video saved in the smartphone and trim it to 3 to 15 seconds. After that, select the still image to be printed as a photo from the scenes in the video, or select it separately from the album. Finally, the flow is to edit the photo such as the presence or absence of frames, apply filters, and finely adjust the brightness, and then print.
During these operations, if the printer is probably asleep, you'll see a pop-up saying "Printer is not connected", just like I did. In that case, select "Connect" on the same screen and tap the printer name to execute printing. It took a few minutes to print one sheet, including waiting for connection.
I heard a slight drive noise from the printer, but it wasn't that loud. For example, I feel that there is no problem even if I use it at a cafe that I stopped by while traveling (unless it is used continuously for a long time).
The printed photo has a tasteful finish
As for the quality of the printed photos, I said it was fair. As expected, I can't expect the fine details and faithful color reproduction, but I enjoyed the taste and the cute atmosphere.
For the printed photo, select "Scan video photo / photo with audio" from within the app, and when you read it with the camera, it will function as an AR marker and play the specified video so that it overlaps the photo. It is a mechanism.
By the way, the back of the print paper becomes a sticker when the surface is peeled off, so you can use it not only to store it in an album but also to stick it on something and enjoy it.
The overall usability is simple.Various printing functions
I also tried all the other functions. For example, "photo printing" can be printed normally. As an operation before printing, there is no video selection compared to the previous video photo.
In addition, for "photo with audio", a procedure to record a message with a microphone is added instead of selecting a video, and the sound source can be played by the same operation as watching the AR effect.
I was a little worried about the translation of the item "puzzle". When I tried it, I thought it was a mess, and it seemed that I intended a method of arranging multiple photos, which is generally expressed as a "collage". In addition, the "split photo" is a collage-like photo, and the "face photo" seems to be a function that is supposed to be used to create an ID photo-like face photo sticker.
A gadget that can easily leave the excitement of everyday life
As for the impression that I actually used the Mi Portable Photo Printer, I felt the sweetness of localization, such as the confusion in registering an account and the feeling of strangeness in some translations, but the overall impression was good. think. If you are accustomed to handling smartphone peripherals, you will be able to operate it smoothly.
Regarding printing, I tried both with and without a frame, but the edges did not stand out even without a frame.
If you use a collage ("puzzle" in the in-app notation), the details tend to be crushed and there are some parts where the color is not accurate, but this kind of printer has a slightly blurred color. It's also a genre where you can enjoy the taste, so if you think that you can fine-tune and apply filters etc., you will not be so worried.
The print price is 60 yen per sheet, which is not cheap at all, but even at convenience store prints, the L version costs 80 yen per sheet. Considering the added value that it can be used anywhere as long as there is paper and that it can be attached as a sticker, it is not too expensive.
I thought it would be an interesting product that would provide a little excitement by being able to print real-time moments of travel, anniversaries, or everyday life.